A Polish Nobleman collection by Rembrandt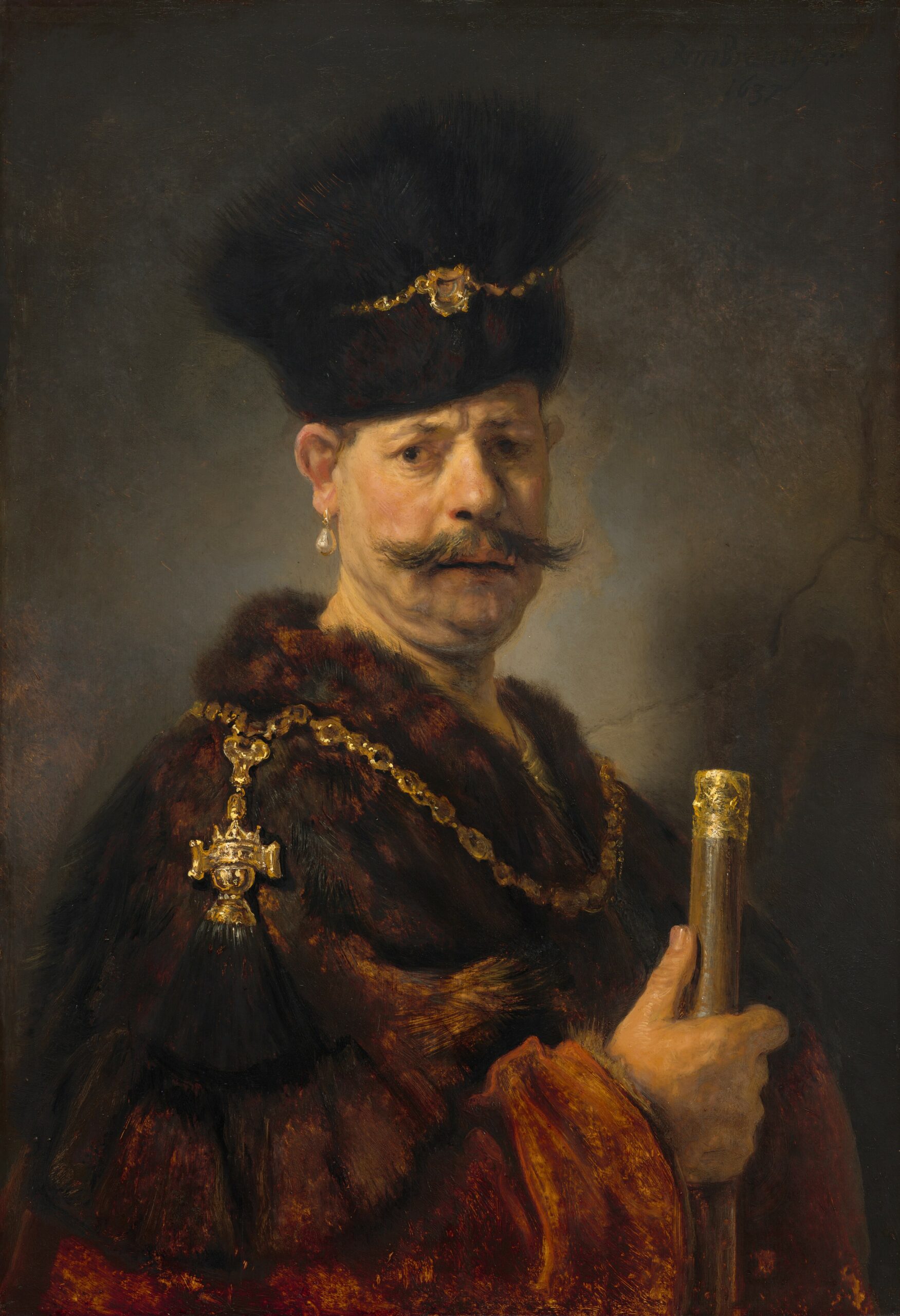 Rembrandt, A Polish Nobleman, 1637
96,8 x 66 cm, oil on canvas
National Gallery of Art, Washington, D.C.
Beautiful earrings inspired by a painting, created by one of the most famous artists of all time: Rembrandt Harmenszoon van Rijn. Known simply as Rembrandt, he is famous – among other things – for his portraits. And A Polish Nobleman is an excellent, though curious, example of his art.

The man looks us straight in the eye. He is middle-aged, richly dressed in a high fur cap and reddish-brown mantle with a broad fur collar. In his hand, he holds a baton with a golden cap – in Eastern countries often being a symbol of power and authority. And he also wears other symbols of his status and wealth: a golden chain with precious stones and a coat of arms in the center adorns his hat and a heavy gold chain with a rich pendant hangs on his shoulder. And then, there is a pearl earring. Pear-shaped, it hangs from his ear and gives him a bit of rakish air.
But who is he? No one truly knows. One of the hypotheses says it represents Andrzej Rej, grandson of the famous Polish poet of the 16th century Mikolaj Rej. Andrzej was a diplomat, who in 1637 represented Poland on Dane, Dutch and English courts. Other theories say it is not a specific person but an anonymous painting, some art historians think it's actually a Russian or a Turkish noble and some consider it's actually… a self-portrait by Rembrandt. Which wouldn't be surprising, since he painted and an astonishing number of self-portraits. But whether it is a portrait of a real man, an anonymous portrait, or a self-portrait, it is above all, a beautiful, striking painting, one that appreciated even the legendary Russian empress: it belonged to Catherine the Great.
Everything in this painting is eye-catching. The stunning play of light and shadow, nobleman's exotic clothing, and his penetrating gaze. But his jewelry is one of the most striking elements of this paintings. And while golden chains adorning his hat and the fur collar of his mantle are more obvious, it is the pearl earring that is the most surprising. The heavy jewelry was a symbol of status and position typical of that time, but this lone pearl earring seems very modern, something that could be worn even today by both men and women.
Therefore, we chose this earring as an inspiration for our new jewelry. A pear-shaped baroque pearl, somewhat irregular – imitating a natural pearl – is set in a beautiful, decorative, flower-like top. Sold not by pair but individually (to keep with Rembrandt's somewhat cheeky idea) it suits both men and women and can be worn at an official event and/or to complete an everyday outfit. It will add a discrete glamour charm to your look no matter the setting. And if you prefer a more traditional approach to earrings… without a doubt they will also look great as a pair!
The number of earrings is very limited: there is only 76 of them and no reissue is possible!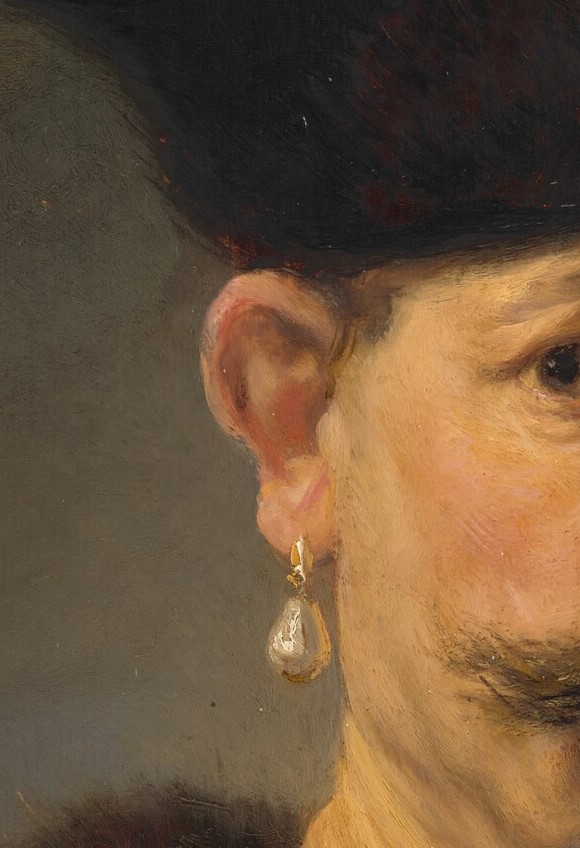 Discover the "Polish Nobleman" collection